FALKLANDS VETERANS
Falkland Islanders
Current Falklands Garrison
Return to Armed Forces and Veterans page
These are the designs which are currently available.
IF YOU HAVE AN IDEA FOR YOUR OWN DESIGN, PLEASE GET IN TOUCH TO DISCUSS
PLEASE DO NOT ASK ME TO PRODUCE ANY LOGO WHICH MAY CONTAIN ALL OR PART OF A
SHIP'S BADGE (crest), CORPS or REGIMENTAL BADGE or official SQUADRON BADGE
or any other design which may be considered to infringe MoD copyright.
Click thumbnails for details and descriptions
FALKLANDS 82
VETERAN
Embroidered logo
FALKLANDS 82
VETERAN
Enamel Badge

FALKLANDS 82
(Generic)
Embroidered Logo
SAMA
OFFICIAL BADGE
Logo
SAMA
Embroidered
Blazer Badge
SAMA
Official
Textual Logo


SAMA Ladies
Logos
SAMA
Caravan &
Camping Branch
Logo
FIUJ
Task Force
Logo
OP PARAQUET Logo
OCFICA
Logo
FICA
Logo
FIM
Logo
STUFT
logo
BFFI
Logo
For every item sold bearing one of these designs, a donation will be made to the
South Atlantic Medal Association.
When ordering, please mention that you are, or are ordering for, a Falklands Veteran or a Falkland Islander.
---
Guided Tours of the Falkland Islands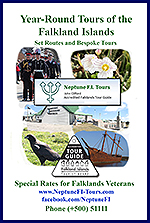 Click/Tap the image to learn more